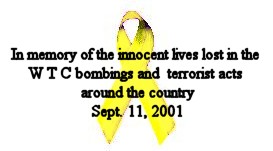 GIVE FREE FOOD: For the next 30 days, all the donations will go to aid the victims of NY and Washington. It doesn't cost you anything but a click, please do this! Thanks!!!!!
****Here is a new guestbook--the other one doesn't work properly. So don't forget to sign this one!****
To Go from page to page scroll to the bottom of the page and click on the links. Thank you and I hope you enjoy my site.